Juwita Suwito's new album - For Real!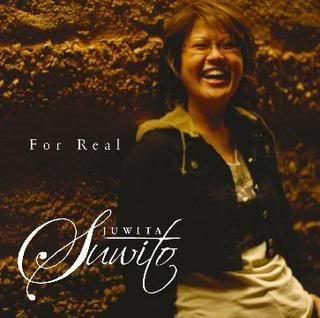 Juwita Suwito's new album is now out.
For Real
is the follow-up to the award-winning
Brand New World
, and I have literally been waiting
years
for it. I thought the debut album was pretty good - actually, very good - and I just didn't quite understand why she didn't get more recognition. So now, her new album
For Real
is out, and of course, I've bought it and listened to it, and listened to it again. And (unsurprisingly), I like it. It's good.
Whether y'all will like it too depends on a few things, of course. Her music can be described as Happy Listening (TM). It's not really Easy Listening (edgier than Norah Jones), nor is it pure pop (more mature than, oh... shall we say, most of the stuff on Hitz.fm?). It's actually fun to listen to, and it definitely grows on you. If you want to, you can hear excerpts on her
website
.
I do have to be honest and say that not every track is enjoyable. The cover of
Desperado
is shrug-shoulder worthy, and there is this song called
Mayday!
which I just don't like. But everything else kinda rocks.
The rockier style also means that we don't get those heart-wrenching tunes. You know, the ones you listen to while you lie back on the sofa and stare at the ceiling. My favourite song on the first album was
Why Oh Why
, and we ain't got none of that kind of sappiness now. On the other hand,
Beautiful Lies
is now a track on the album, having originally appeared in the film
Gol & Gincu
.
The only Malay track on the album (
Teman Sejati
) is making its rounds on the airwaves at the moment. A Siti Nurhalizesque number, it's pretty okay, but it isn't really indicative of what's on the album. The other stuff has more guitars and drums on. More fun.
But you know what? It still doesn't beat what she can belt out in person. I've heard her sing two of the songs on stage, and I reckon it's even better than the album version. So, here's to a live recording of her best stuff the next time around.
Comments:
Hello.I like her songs too.but It's pity that I can't buy it.because I come from China.and I found my city can't receive the ablum.can U post these songs for me by your E-mail.?? thank u.
Post a Comment