The Phillips Jazz Festival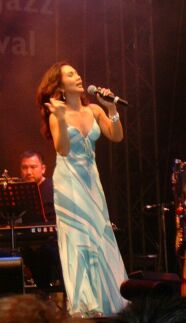 You know, I'd hate to say "I told you so", but what the heck - I told you so. The Phillips Jazz Festival had invited not one, not two, not three, but four mainstream acts who were more pizzazz than jazz, and the results were disappointing. Instead of taking the opportunity to experiment, the quartet of Camelia, Ning Baizura, Sheila Majid and Anggun mostly stayed within their familiar musical boundaries. Was it enjoyable? Yes. Was it Jazz? Probably not.
This compounded with the fact that I arrived late after deciding to catch some much needed sleep (you wouldn't believe how busy things got in the preceding 24 hours) meant that I missed out on most of the jazz available.
Anyway, highlights of the concert? Krakatoa are pretty cool, Silk have a bunch of manic musicians and of course, Sheila Majid who did a delicious version of Fly Me To The Moon (but honestly, if all she did was walk onto stage and said "Hi" that would have been fine too). All four of the pop girls looking very nice and pretty (/me waves out to Camelia and Sheila).
Low points? Each of Camelia, Ning and Sheila trying only
one
jazz standard each, and even that in a slightly more poppy vein. Sheila only having 20 minutes to perform in. A crowd touted at 10,000 but in all honesty couldn't have been more than 2,000. Anggun starting off and continuing with what can only be described as hard electronic rock.
I left early to catch Man Utd's 4-0 mauling of Aston Villa but even that was preferable to Anggun's dismal ending to the festival. Maybe next year, eh?