29 April 2003 - On a train between Dieu Tri and Na Thrang
Vietnamese food
Unfortunately, as I've travelled eastwards, I've become less adventurous with food, but that may have something to do with the fact that the food is less adventurous anyway. Vietnamese food, it seems, is more bland than Malaysian or Thai food. There is garlic and ginger, but none of the curries that we know. A lot of mee soups, but little flavouring other than stock, salt and pepper.
There are also a variety of roast meats available, mostly served in a baguette. Actually, an omelette baguette is extremely good value at VND4000.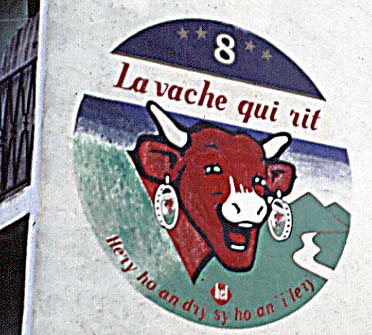 One thing which I really like here is that everyone seems to eat
Laughing Cow cream cheese
. Those that know me know I go weak at the sight of
la vache qui rit
and can finish the stuff by the boxful. Which is exactly what I'm doing over here.
Drinks are not a problem, with roadside stalls selling everything from coconut water to sugar cane to coke to beer. I've personally taken a fondness to coconut water because it's cheaper than anything in a bottle or a tin and because you get to scrape out the insides too.
All this served by the roadside on lillputian tables and chairs, which makes me feel like I'm at some sort of teddy bear's picnic.
Fast food hasn't really invaded Vietnam yet - the only exception seems to be KFC. There are plenty of restaurants in tourist areas that serve food on proper sized tables, with menus in English, but the premium is an extra 20% or so in price.
Supermarkets haven't yet caught on with the idea of serving hot food, so I'm limited to buying bottled water and cream cheese and baguettes from them.
They do sell marshmallow chocolate-covered biscuits here, which are a lot like
Wagon Wheels
(if you know them). I used to eat Wagon Wheels by the dozen when I was in school, and I have been happily reliving that childhood memory here in Vietnam.
Apart from that, Vietnamese food is a bit of a letdown after wonderful Thailand.
Labels: big trip