5 April 2003
Thai Food
One of the things I like to visit when I'm in a new town is the market. I'm not talking about the local Tesco's, I mean like a patch of ground where there's nothing one day and then rows and rows of tents the next. The Hatyai market near where I'm staying only opens on Wednesday and Saturday. It's not all that much different from the markets back home, except for one big exception: the food is different.
Eating is kind of like a hobby for me. I like to eat. And I like to try different things, as long as they don't have more than four legs.
It's amazing how different food is over the border. Penang is only two hours drive from here, and there are variations of food here that are familiar but taste very different from what we get back home.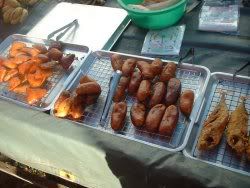 Those pudgy dough bits in the middle are fried bananas.
Let's take the
pisang goreng
for example. The batter they use here is much heavier and sweeter than the ones back home, resulting in something more like dough bananas than fried bananas.
They have
apum
here as well, except that it looks like
apum balik
but tastes like the
apum
you eat with coconut.
The
cucur udang
they serve here is fried in hot oil so that it is crunchier than the Malaysian version.
A word or two needs to be said about the tea. They mix something like one part condensed milk to three parts tea, and then they add sugar to it, just to make sure that it's sweet.
Another thing: Back home,
teh tarik
is made using tea dust. You always hear of stories of shops adding extras like sawdust to add bulk to the tea. Well, the shop I stopped at over here had a sawmill and a mound of sawdust right behind it.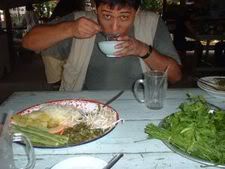 Me unashamedly tucking into some thai laksa
Probably the best meal I've had here so far was the Thai laksa. The gravy was a mixture of
assam laksa
and one based on
kunyit
and
santan
. It was the best laksa I've ever had. The fish is actually the secret - it's a little sweet after boiling it, and this stock is reduced, magnifying the taste before the other ingredients are added to it. When you sit down to eat it, the shop puts a large plate of leaves in front of you, and you add whatever garnish you feel like.
Another yummy dish is this simple thing that they pack for people on the go. It's a piece of fried chicken, some
pulut
and fried garlic. It's a really simple dish, and it works really well.
They also sell
nasi ulam
here, with lots of cili to go with it. It tastes a lot like the
nasi ulam
you get back home, but I don't eat it all that much, so I really can't say.
It seems they add sugar in a lot of their dishes, including curries and soups, so things have a slightly sweeter taste to it, but I haven't really been able to make out the difference, except for the chilli sauce.
Labels: big trip