12 April 2003
Bangkok
Chatuchak Market
I like markets. A microcosm of everyday life, you can get a good hint of what people consider 'normal'by what they buy and sell everyday. I'm making it a point to try and visit a market in every town that I visit.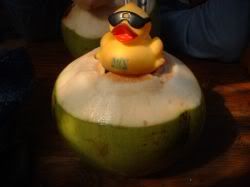 Ed enjoying a drink at Chatuchak Market
Chatuchak is a permanent complex of markets north of Bangkok. It should be visited just to experience the sheer breadth of what is available there. You get can everything from food to garden ornaments to clothes to electronic goods to books to pets. It is hard to imagine anything that isn't available there, short of massively expensive goods, such as cars. Even that, I wouldn't put it past to have a Sunday car auction or something.
I went on the day before Songkran. Although it hadn't officially begun, people were begnning to squirt water pistols already, and walking through the market was a bit like walking a gauntlet (although it was nothing compared to full-blown aqua warfare conducted the next day).
The market is so large that it is impractical to talk about seeing everything. The best you can do is to walk down a cross-section and hope you see a bit of everything.
I was most intrigued by the pet section. There are a lot of fish, but also mammals like dogs, rabbits and cats (although, not that many cats). It seems they even sell animals like tigers and monkeys, but these are kept well away from the main areas (probably because they are illegal, also perhaps because of the uproar it causes with some visiting tourists).
But although the market is officially segmented into areas, in reality a little bit of everything spills into one another. As a result, you have situations like food stalls setting up right in the middle of the pet area., something I thought very unhygenic and risky. Need I say "cross-species infection"to make myself clear?
The other thing is that there are usually no price labels on goods, leading to an unofficial two-tiered pricing system for locals and foreigners.
Some of the complexes are very stuffy to walk into, especially on a hot day. I couldn't help but think about what would happen in some of these congested, crowded areas if something like a fire broke out.
All in all, with the variety of what is on offer, it's a good place to visit and spend half-a-day, browsing and maybe even shopping.
Labels: big trip